Today saw the official opening of a long-awaited facelift for one of Queen Street's busiest stretches, with hopes it will help to revive the ailing city centre.
Converting a car lane into an extended footpath, Auckland Council aims to see more feet on the ground.
The new Waihorotiu path, running from Mayoral Drive to Shortland Street, feels like a promise of things to come. Or is it a threat? Not everyone is convinced.
Two delivery workers said the "upgrade" had made their jobs a nightmare, with opportunistic drivers taking up space in the dwindling supply of loading zones.
While the extra space had impressed some pedestrians, others were skeptical. "I used to live in Auckland for about 44 years," said one visitor. "I think Queen Street has gone backwards very badly."
He said the city center was stuck in a rut. "For those of us that don't live in Auckland, the reputation of Queen Street isn't good these days."
But others celebrated the wider footpath. "I think it's really nice," said another visitor. "It looks wonderful."
For Auckland Council, the $16 million project was a vital step in realizing a new vision for the city centre. Head of City Center Programmes, Jenny Larking, said her intention was to put pedestrians first. "Aucklanders' histories are written here," she said.
"People flock over here to celebrate our victories, it's also the place we come to march and protest. People are effectively at the center of Queen Street."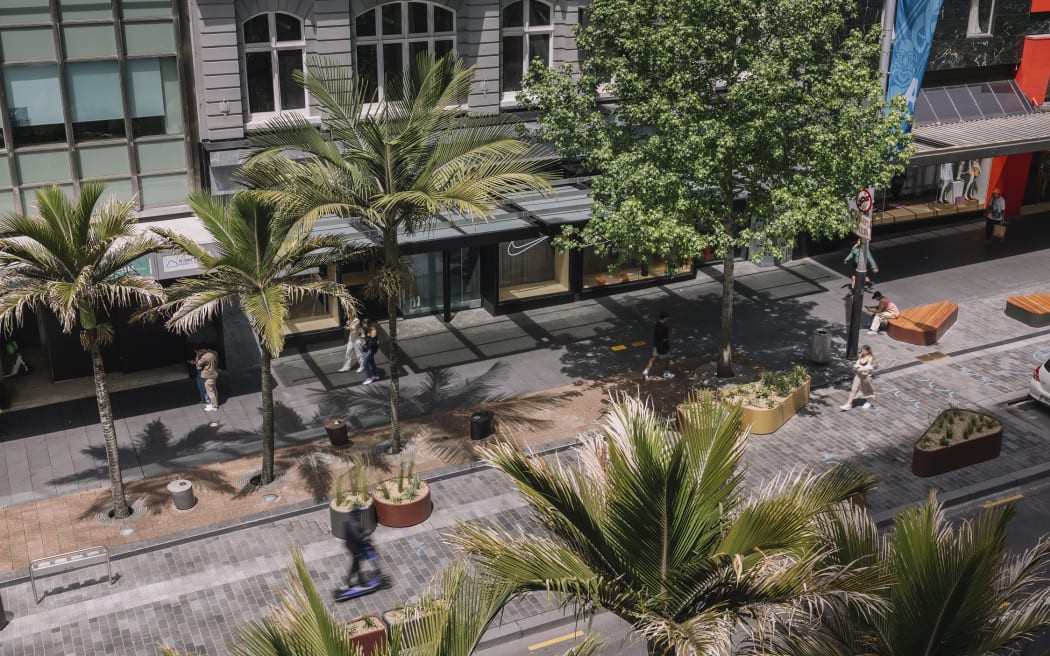 After a difficult couple of years, she said business owners had something to be excited about.
"We have a fantastic Christmas program planned in partnership with our business community," she said. "We're hoping people will come and benefit the businesses and retailers here."
To minimize disruption, the project was completed in less than a year, without any digging. Project Manager James Buckley said the entire street was built on top of the existing road.
"We've been able to deliver almost a mile of street in about 10 months, which is unprecedented really," he said.
"It's really been driven by [the desire] to reduce disruption for businesses in a really difficult time."
Larking said the development was already attracting new businesses to the city centre.
"Within the last few months, we've had some really exciting shops that have popped up on Queen Street," she said. "All of them are coming because they believe in Queen Street."
One of those shops was Studio Cavit Luxury, a new branch for an Australia-based furniture store. Owner Ian Cavit, an Aucklander who moved to Sydney fifteen years ago, said the city's new direction had lured him back.
"Having a look at what's been done not only around the viaduct but also with Britomart and now Commercial Bay and the lower part of Queen Street, I really think that Auckland is doing a terrific job in terms of bringing soul back into the city," he said.
Larking said the path would be put to the test when the City Rail Link kicked off in 2025. From there, she hoped Queen Street would keep evolving.
"What we have put down here will last for quite a number of years," she said. "When the right time comes, we'll be asking Aucklanders again what they want out of their Queen Street. It will continue to evolve."
She said Queen Street's future would be written by the people walking on it.