Central OCPD Adamson Bungei shows cash and a homemade handgun recovered from a suspect in September 2021. [Denish Ochieng, Standard]
A new crackdown to rid Nairobi of street families is looming, with police saying the plan will improve security in the capital.
Central OCPD Adamson Bungei said this is part of a strategy to eliminate petty crime in the city.
He said members of the street families are often used to commit crimes, such as mugging and snatching side mirrors from cars.
"Some of them are used to transport stolen goods and sell drugs, including bhang," Bungei said.
The OCPD said the new strategy was adopted based on experience gained over the Christmas and New Year period.
"During the holidays, crime in the city went down about 80 percent, and that was because most of the street kids were out of town. No major crimes were reported in the Central Business District during the season. So far in January largely without criminal incidents," Bungei said.
Aside from the fact that over 300 police officers were deployed to keep the city safe during this period, the absence of most street families contributed massively to the lack of incidents.
Bungei said they are also keen to increase police presence in Nairobi as it has been shown to deter crime.
"Criminals may not do much when they see our officers in almost every corner of the city. You know that if anything happens, we're anxious to act. Members of the public can also quickly report to officers should they discover any suspected criminal or activity that could cause public disturbance," he said.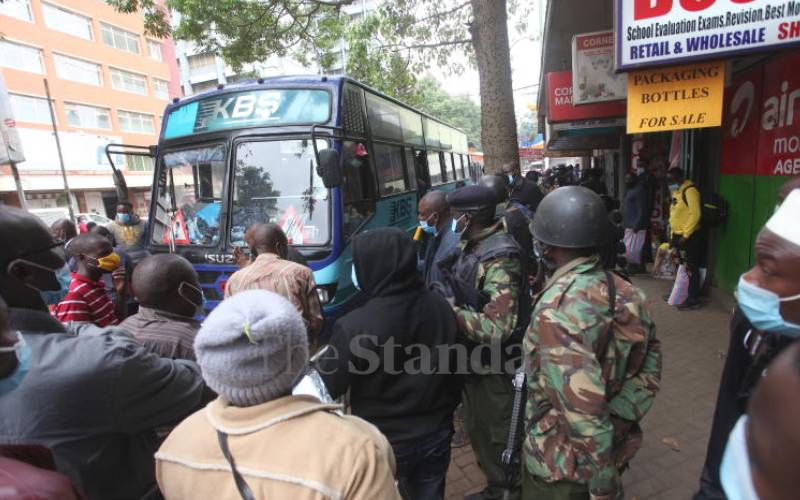 Police officers patrol Nairobi CBD. [Wilberforce Okwiri, Standard]
He also said more plainclothes officers are being deployed in strategic areas known to be crime hotspots.
"We will have many uninformed and ununiformed police officers at bus stations, including Kencom, Ambassadeur, Railways, Machakos Country Bus and Bus Station," Bungei said.
He added, "The Globe Roundabout Bridge, the path from Uhuru Park to the CBD, and Central Park are other areas under heavy police surveillance."
"We will also improve security in busy commercial areas including River Road, Ronald Ngala Street, Luthuli Avenue and Biashara Street. I appeal to the public to cooperate with the police in the fight against crime by voluntarily providing information. This will help us track criminals or foil attacks," the official said.
During the festive period, Bungei said, in the CBD, police officers arrested several people posing as travelers but attempting to steal. "This group of criminals targeted travelers who came to the city mainly from the interior."
On the Nairobi Country Bus, Bungei said, they arrested two people who were reportedly selling counterfeit bus tickets. And they managed to fill two stuck buses with passengers at the time of the arrest, Bungei said.
"Passengers going to the western part of the country – to Busia and Kakamega – were deceived into thinking the buses were operational, but they had been stalled for months. The criminals had only washed the tires on the buses to make them look like they were working," Bungei said.
Bungei said a special unit has been formed to track down and arrest criminals who scam people by pretending they can pray for them to double their money.
Also on the police radar are gamblers stealing from unsuspecting members of the public.
Found mainly along Tom Mboya Street, near Muthurwa market, train station and Country Bus, the players are said to have moved out of town and are now operating in estates.