Despite a steady rain, New Yorkers marched and huddled together in Union Square Park for the annual NYC Cannabis Parade & Rally on Saturday, May 7.
Here are seven highlights from the soggy day:
1. Return of the 51-Foot Inflatable Joint
The inflatable joint on parade (Sam C. Long photo)
It wasn't easy carrying the huge joint balloon in the rain, but the participants managed to not bogart it.
2. Return of Sen. Chuck Schumer, plus Rep. Jerry Nadler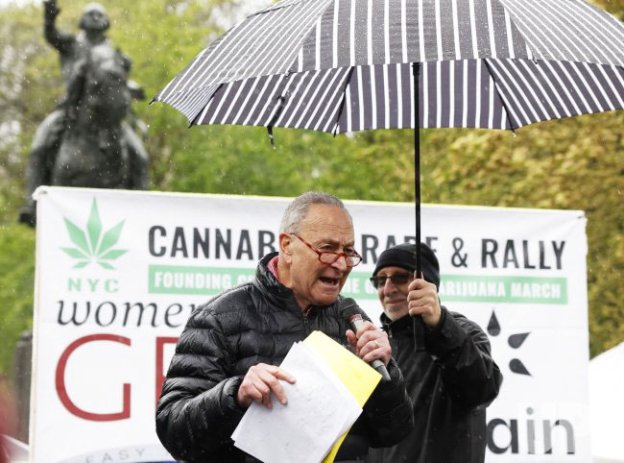 Sen. Chuck Schumer with Steve Bloom holding the umbrella. (UPI photo)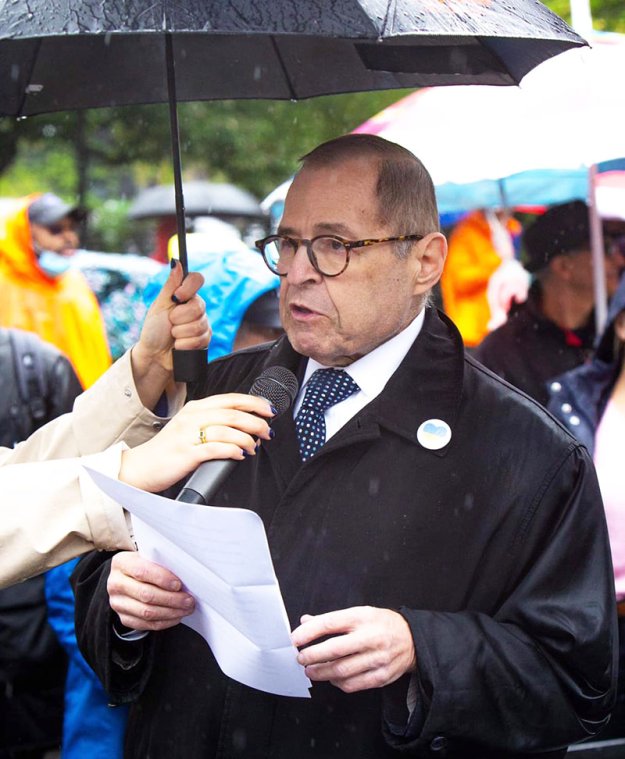 US Rep. Jerry Nadler read his speech in the rain. (Sam C Long photo)
The heavyweight Congress members spoke back to back with Schumer eventually passing the mic to Nadler. Schumer also attended in 2021.
3. Return of Redman and Jumanne Williams, Plus Sephida Artis-Mills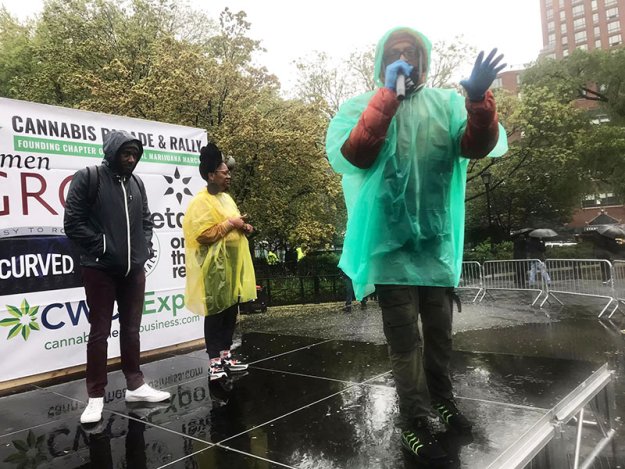 Redman, Jumaane Williams and Sephida Artis-Mills all spoke on behalf of the National Cannabis Party. (CelebStoner photo)
Redman led a delegation of National Cannabis Party reps, including his sister, Artis-Mills. A longtime supporter of the event, Redman handed the mic to NYC Public Advocate and Democratic Gubernatorial candidate Jumaane Williams, who previously spoke in 2018 and 2019.
4. Return of Shinnecock Nation, Plus Mohawk Nation
Shinnecock Nation's Chenae Bullock (Sam. C. Long photo)
Dressed in a colorful outfit, Chenae Bullock represented the Shinnecock Nation based in Southampton, NY. She was joined by Roger Jock Mohawk and others.
5. Return of Assembly Member Richard "Dick" Gottfried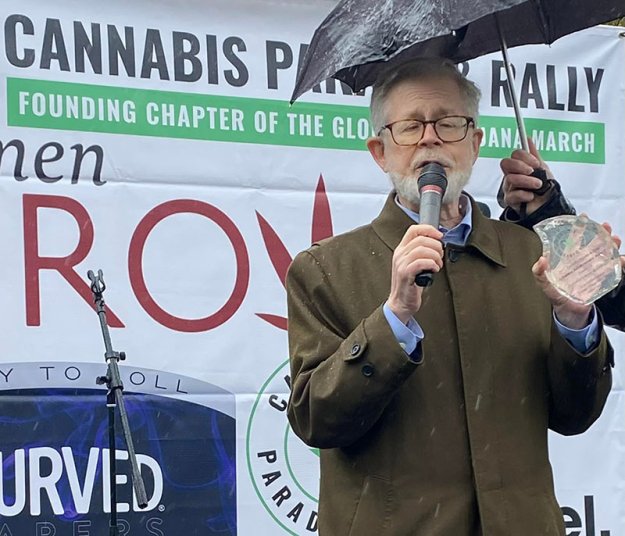 Assembly Member Richard Gottfried accepted a Lifetime Achievement Award. (Photo via Gottfried)
The longest standing member of the New York State Assembly, Gottfied is retiring at the end of this year. Event organizers gave him a Lifetime Achievement Award for his efforts to decriminalize, medicalize and finally legalize cannabis in the Empire State.
6. Return of Chris Alexander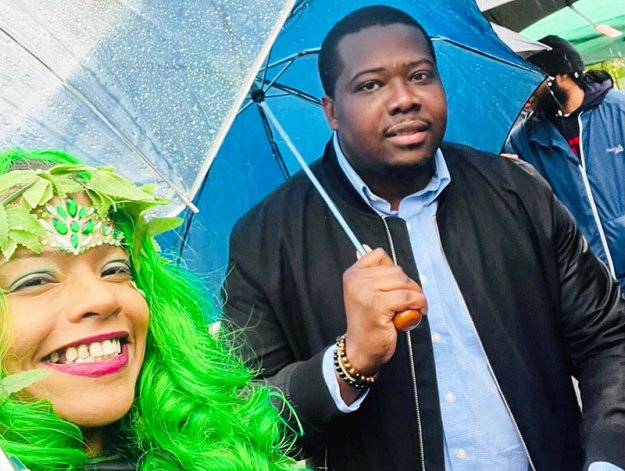 OCM's Chris Alexander with Pilar DeJesus
The last time he spoke at the rally, Alexander worked at the Drug Policy Alliance. Now he's executive director of the state's Office of Cannabis Management.
7. Cannabis Giveaway
Curved Papers' Michael O'Malley with a bag of 100 joints next to Senator Schumer.
Six hundred joints in branded black and green Doob Tubes were passed out throughout the day by event organizers like Curved Papers' Michael O'Malley.
Other key moments
• David Bronner
• Ethan Nadelmann
• The Joints Cheefs performed after three tries
• Steve DeAngelo
• Imani Dawson
• Java Jel covered Buzzy Linhart's "Friends"
• Dana Beal
• The David Peel Tribute Band played "I Like Marijuana"
• Aaron Kay
coverage
• Marijuana moment
Become a Patron!
Steve Bloom
Publisher of CelebStoner.com, former editor of High Times and Freedom Leaf and co-author of Pot Culture and Reefer Movie Madness.